Dairy Hygiene
A performing milking system is one that's clear from any bacteria and build up.
Specially formulated products for all types of New Zealand dairy farms.
When it comes to dairy farming, farmers need cleaning solutions they can rely on to maintain milk quality. This is precisely why FIL's dairy hygiene solutions have been put to the test in dairy sheds for over 30 years are based on what really works on NZ farms.
Our range of high strength acid and alkali detergents, along with reliable specialty cleaners, are engineered to cater for all plant types and farm conditions. They work hard to successfully break down stubborn fat, protein and milk deposits through the plant and vat, ultimately helping farmers avoid costly grades.
All FIL dairy hygiene products are proudly manufactured in the Bay of Plenty, New Zealand.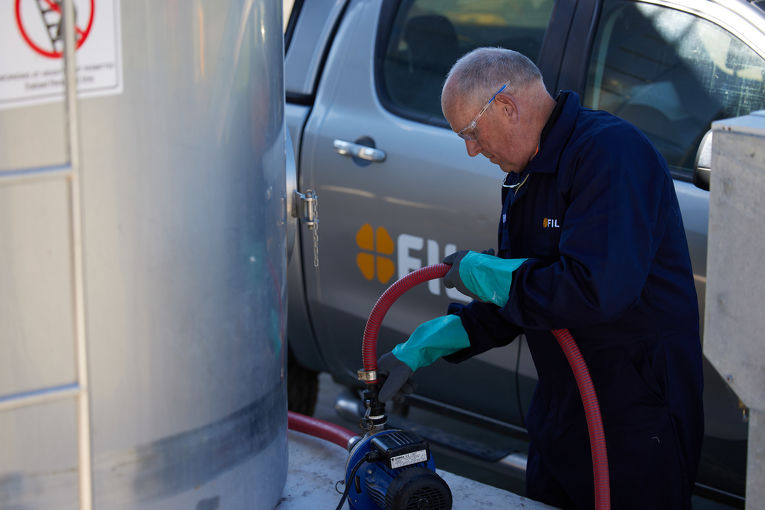 Chemical
Detergents are used to remove soils that allow bacteria to grow in. There're three kinds of detergents: acid, alkali and chlorine.
Turbulence
Turbulence is created by flushing pulsators injecting air and water into the milk line. Turbulence will differ between milking plants.
Temperature
Temperature is vital for giving your detergents optimal cleaning power, speeding up the process by melting fat and killing bugs.
Contact Time
Contact time is the length of time the chemical adheres to surfaces to ensure it dissolving the soils and cleans thoroughly.
Safely using powdered alkali in the dairy shed
Tips for monitoring auto and manual wash systems
Understanding the quality of your farm's water
Checking for heat loss during the hot wash
Finding air leaks around the plant that could be affecting the wash process
MONTHLY PLANT CHECKS WITH FIL: Milk line & pulsator airline
Request a consultation
Get in touch for more information or a no-obligation consultation with your local FIL Area Manager.
Acid and alkali - what's the difference?
Not all detergents are created equal. To effectively kill bacteria and remove soil from the milking plant, you need to use two kinds of detergents within your wash programme: acid and alkali.
Acid
Acid detergents remove mineral deposits from all milk contact surfaces of the plant and milk silo. They contain acid, sanitiser and surfactants.

The acid dissolves the minerals and the surfactants increase the spreading and wetting properties of a detergent.
Alkali
Alkali detergents are a crucial component of the cleaning process. They are designed to remove fat and protein. They usually contain caustic soda and other alkaline materials, chlorine, surfactants and chelating agents. The caustic soda removes fat and chlorine fractionates protein deposits.

You can add C3 chlorine to your alkali wash to boost chlorine levels and correct grade faults.