FIL announces global partnership agreement with Farm Medix
18 Dec 2021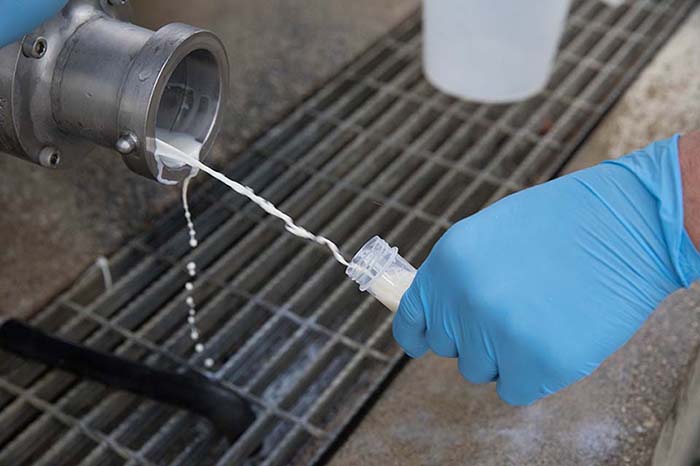 Dairy hygiene and animal health supplier FIL has entered into an exclusive, global partnership agreement with mastitis diagnostic solutions company Farm Medix. The partnership brings dairy farmers best-in-class solutions to improve milk quality and farm profitability, while supporting an industry initiative towards reducing antibiotic usage.
Building on a successful collaboration the companies have had over the past five years, FIL now has exclusive access to Farm Medix's award-winning solutions, including diagnostic kits for on-farm mastitis testing.
Colin May, FIL Hygiene Sales Support, says "FIL is proud to have strengthened the collaboration with Farm Medix. We share a combined commitment enabling farmers to improve milk quality and farm profitability through lowering somatic cell count (SCC) and mastitis cases."
Helping farmers cut costs with a superior mastitis management approach
"As an industry leader, FIL stands ready to help farmers take the burden off managing mastitis. Mastitis costs on average $180 per cow, and with an average farm size in New Zealand of 435 cows, that is a whopping $78,000 per year total. Not to mention lost production, veterinary bills, mastitis culls or the extra labour required to manage a red mob. Mastitis can be a challenging problem to solve, and it is important that farmers feel supported with trusted expertise and proven solutions," says Colin.
Taking a holistic approach to problem solving
Foucauld Thery, Farm Medix Chief Executive Officer says, "The holistic approach developed by Farm Medix, and delivered on farm by FIL, is cutting-edge. It starts with forensic milk profiling that identifies the farm specific challenges - within of a full range of pathogens and hygiene-related organisms (bacteria, yeast and algae). With this information in hand Farm Medix is able to uncover whether issues with milk quality are cow or hygiene related. Once we identify the pathogens, where they came from, and what caused their presence in the milk, farmers can make rapid, informed decisions on the best course of action to not only resolve their immediate challenge, but also to prevent future mastitis cases."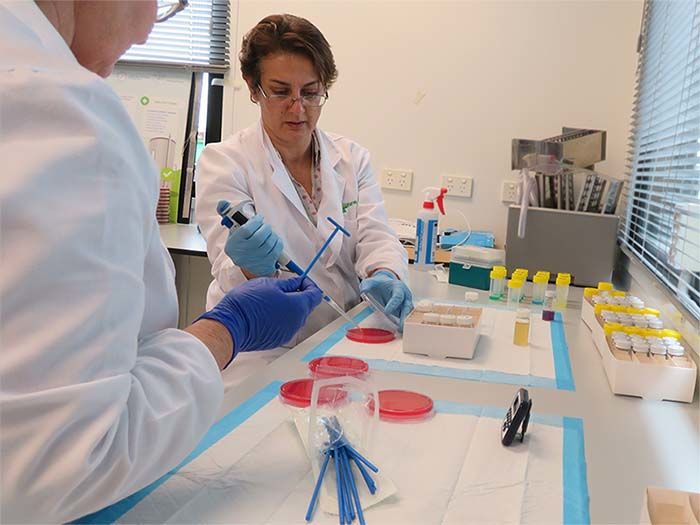 The Farm Medix laboratory is located at the Waikato Innovation Park. Pictured: Natasha Maguire (Farm Medix Chief Scientific Officer).
Sharing a commitment to reducing antibiotic usage
"With the rising issue of antibiotic resistance and the need to reduce antibiotic usage, it is becoming more important to identify and treat mastitis accurately. Farm Medix's targeted and selective approach is more effective and far less costly to farmers than anything we have seen," says Colin.
Farmers can now use simple tests to analyse a bulk milk sample from the vat or individual cows to identify what mastitis pathogens are present. With Farm Medix, any accredited FIL Area Manager can complete a full on-farm assessment, analyse milking system performance, operator milking techniques and udder health.
Natasha Maguire, Farm Medix Chief Scientific Officer says, "We are excited to count FIL as our partner. Having been trained and passed our accreditation program, FIL Area Managers are the best positioned to deliver Farm Medix solutions and provide technical support on farm. I am very impressed by the knowledge of the FIL team, and I am looking forward to our new ability to reach and help dairy farmers across the country."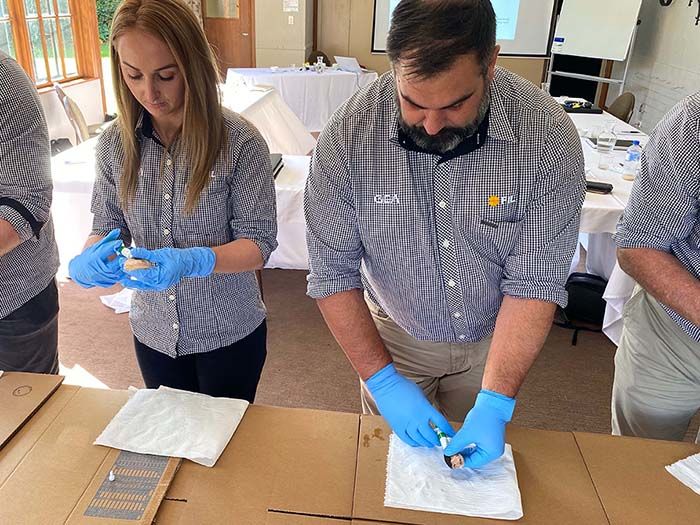 From left to right: Shayla McGrory (FIL Area Manager – Reporoa & Rotorua) and Craig Allen (FIL Area Manager – Central & South Taranaki) being trained on the inner workings of a cow's teat as part of the accreditation program.
The FIL mastitis assessment includes:
On-farm assessment to get an understanding of the individual farm's operation and challenges, along with evaluating milking practices and teat condition.
A comprehensive Farm Medix action report detailing recommendations, based on the mastitis pathogens found.
Staff training on good standard operating procedures.
Follow-up visit during milking to evaluate and document progress.
Reliable, on-going technical support from FIL and Farm Medix.
Back...