Shed shutdown: finishing the season off right
8 May 2023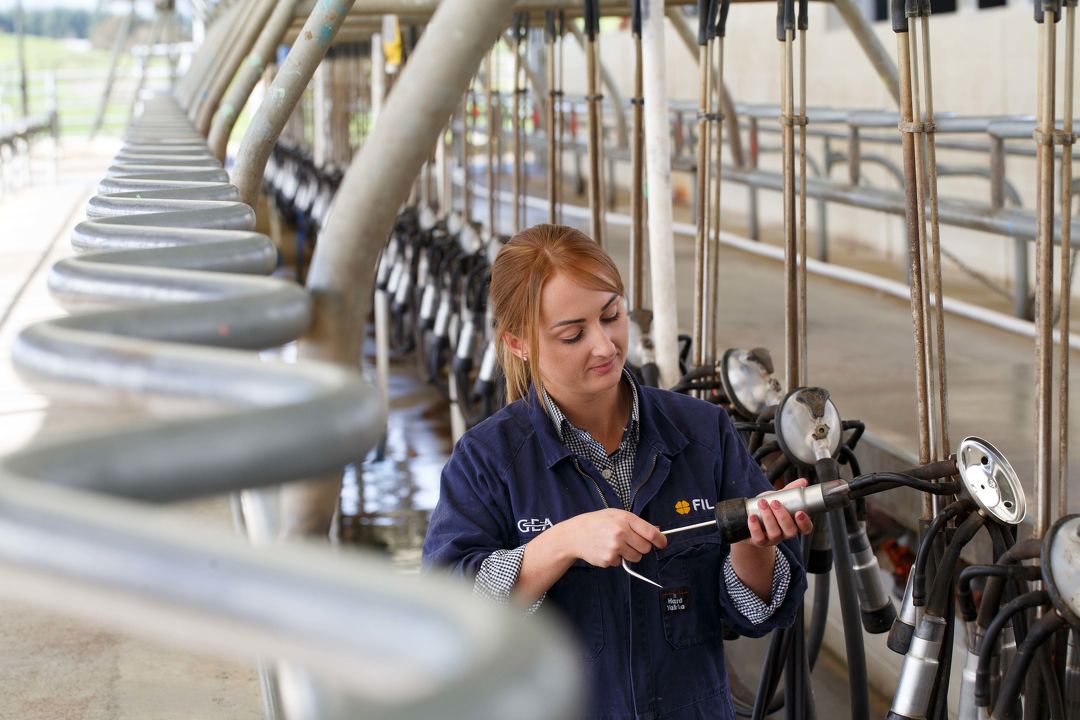 Cows always seem to start calving earlier than planned, which often means you don't get the chance to clean your plant properly before the new season kicks into action.
To ensure you are not left with unwanted protein buildup at the start of next season, it's essential that you leave your milking plant clean and sanitary when you shutdown at the end of this season
6 key steps before shutting down
1. Last wash
When doing the last wash of the season, there's a few things to be mindful of to ensure you leave the plant in the best possible condition.
The last wash should be a very strong alkali at 85°C, recycled for 5-8 minutes and then dumped at around 55°C.
Check that the flushing pulsator is working well - it should still be going when the slug hits the receiving can. If not, it needs to be adjusted before next season.
If you see signs of cleaning issues after the alkali wash, use a milking line brush (with filter sock on) down the line to remove any remnants.
Do a final rinse with your normal acid wash.
Listen out for any sucking noises around your plant - air leaks can compromise a thorough and efficient wash.
Follow this same procedure for the vat.
Caution: Do not enter the vat - this is classified as a confined space.
2. Pulsators and vacuum lines
Next, inspect the pulsator line and vacuum lines. If these need cleaning it is best to do it now - leaving them until next season will make them very difficult to clean.
Remove the pulsators and block any holes.
Suck alkali through the line from each end.
Brush the line if required.
3. Liners and rubberware
Now is the perfect time to check if you have any liners and rubberware in need of replacement. Generally, liners should be replaced every 2,500 milkings and rubberware as soon as it starts to decay.
Remove air tubes, claw tubes and the milk tube and inspect for deterioration. If these don't need replacing, soak them in a solution of alkali - this removes internal protein buildup and cleans up the exterior nicely.
After a couple of days remove rubberware from the alkali solution and rinse thoroughly.
You should also clean teat cup shells in the same way at this stage.
4. Milk delivery line and seals
Take some time to inspect the milk line unions and the milk delivery line joins in the plant. It's a very big job to take the milk line apart for inspection, so speak to your FIL Area Manager about their inline camera.
All our Area Managers carry an inline camera to inspect the milk line and check milk line union seals, as these can quite often be frayed.
If doing the job yourself, be sure to take the inlet and outlet off the vat and check these seals too.
5. Jetter line
An area that is often overlooked is the jetter line. If your jetters have the external rubber cups that the inflations fit up into, these need to be checked for splits. If they are split it slows the water flow down, so you will need to replace them.
Inspect the jetter for any cracks.
Check for air leaks around the seals between the jetter and jetter line.
6. Machine testing
You should include a machine test in your shutdown procedure so issues are identified now rather than when you're back milking. Once you have made your way through the first 5 steps, book a machine test with your local dealer – they've got the tools to give your plant a comprehensive check to make sure everything is running right.
Ensure the plant is back together before you book the machine test.
If you have a centrifugal milk pump, get the dealer to replace the seal behind the milk pump impeller, this needs to be done annually and is a big contributor to milk quality issues.
If the machine test picks up on any faults, or you notice any during your inspection, have these fixed over the dry period as technicians are typically busy early season.
Need some advice about finishing the season off right? Have a chat to your local FIL Area Manager. Find your rep
Back...