Andrew Hardie - Manawatu - Whanganui
Case study: How Farmer Andrew Hardie managed contagious Staph aureus mastitis in his herd
In 2017 a Farm Medix Herd Screen revealed 130 cows on Te Maunga farm in Dannevirke were infected with Staph aureus. This was the start of a journey to dramatically reducing and controlling mastitis through a vigilant approach to herd management, pathogen identification and targeted treatments.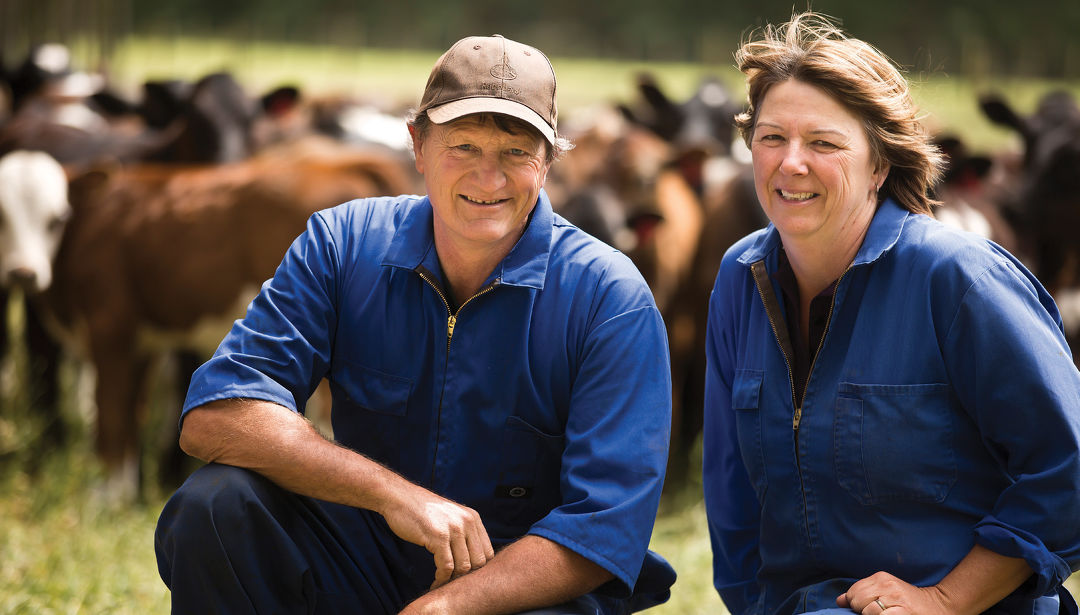 In late spring 2017, a Farm Medix Herd Screen revealed 130 cows (18% of the herd) on Te Maunga farm in Dannevirke were infected with contagious Staph aureus (Staph). This was the start of a journey to dramatically reducing and controlling mastitis through a vigilant approach to herd management, pathogen identification and targeted treatments. Importantly, this has led to a significant reduction in the use of antibiotics on farm.
Farm owner Andrew Hardie reckons he battled mastitis in his herd for years, at an estimated cost of around $40-60,000 in lost production, not to mention veterinary bills and antibiotic treatments.
"We thought we had it under control" he says, "we practised good milking techniques and dry cow therapy we were still getting mastitis. And it became progressively worse."
For all that time, he had no idea he was fighting a losing battle against the contagious Staph aureus (Staph) pathogen. A year later, he's made good progress and he's keen for other farmers to learn from his experience.
"It's not until you actually target Staph that you can make real progress" Andrew explains. "And there's plenty of good advice to follow, once you find the right help.
"Together with FIL, the vets and Farm Medix, Andrew and contract milker Liam Richardson developed a three-prong approach to controlling infection last year: (1) separate the Staph cows from the rest of the herd, (2) milk the Staph cows last, culling any that develop clinical mastitis, and (3) culture every new case of mastitis with the Farm Medix Check-up™ mastitis diagnostic tool.
A targeted approach to dry-off was successful.
"This year, we went away from blanket dry cow therapy completely and let the data formulate our dry-off process" says Liam. "The cows were dried off in small groups, targeting those with higher somatic cell counts (SCC) first. For this high SCC group, samples from each of them were cultured and we selectively used dry cow therapy rather than blanket treatment. And we treated them based on the pathogen results."
He adds that the other half of the herd was dried off in two groups, most of them using teat sealant alone.
Andrew agrees that teat sealing worked well for the heifers but stresses that success was due to the very stringent hygiene programme that Liam had in place. He adds that having the Staph cows separated out all season was another contributing factor to the overall success of dry-off.
A new season, same targeted approach.
220 new heifers joined the herd this season. At the time, Andrew had FIL arrange a Snapshot™ bulk milk sample to be taken from the vat. This test, developed by Farm Medix, helps determine what pathogens are present in the milk.
Some Staph was detected.
Liam stripped the whole herd and cultured any that showed clinical signs. Two cows from the original herd were identified with Staph and immediately separated out.
Teat condition continues to be a focus. Under advice from FIL, Liam's using an iodine-based teat spray with 15% emollient.
Iodine teat spray provides better control of Staph and e-coli pathogens, states FIL National Sales Manager Colin May. "We always believed we didn't get a lot of e-coli in New Zealand but with the increase in testing, we're seeing a prevalence of e-coli around the country."
Liam confirms that teat condition has steadily improved. "We used Active Teat Cream during colostrum milking and then the iodine-emollient combination. The teats are nice and smooth, with nowhere for bacteria to build up."
Average SCC shows steady progress.
Average SCC to mid-September 2016 was 254,000, in 2017 it was 239,000 and 2018 shows it at 193,000. On the 17 September 2018, it was 141,000.
Andrew remarks that SCC has been tracking between 18 and 25% better than last year.The team at FIL have also kept a close eye on progress.
"Early in the season there was a spike in SCC" notes Colin. "The Farm Medix Snapshot test showed this was likely a result of colostrum cows joining the herd too early.
"It pays to give first calvers a few more days to settle before joining the herd; four days is often not enough, particularly if you are on once a day milking. Many farmers don't take this into account."
80% less antibiotics used on farm.
This time last year, Andrew and Liam had treated 109 cows for mastitis. So far this year, they've cultured samples from 20 cows and only 12 have been treated with antibiotics.
From Colin's perspective, this is the biggest positive. "Somatic cell count is a guide to udder health. We see cases where cell counts are relatively low, but there are still high instances of clinical mastitis.
"Ideally, farmers should aim to treat less than 5 per cent of the herd with antibiotics.
Andrew and Liam's approach is not only sensible, it's responsible." Andrew believes they'll save around $15,000 on antibiotics this year.
Production is on the increase.
Andrew says mastitis has cost them heavily. Last year they had to sell about $15,000L milk as waste milk for 20c/L, losing around $7K in profit. They also culled around 150 cows in the Staph herd, selling them for around $800. The replacements cost around $1,500 each.
However, they're milking less cows this year and production is 6% ahead of last season to date. Half way through September they were 8% up on September last year.
Next steps…
The two cases of Staph recently identified were a big disappointment for Andrew and Liam. These cows will be culled.
The original plan (with the addition of the new 2-year heifers) was to do another Herd Screen this spring. This is because maiden heifers are still a source of potential new infection. Andrew's not convinced they need to at this stage but says that another couple of Snapshot bulk milk samples will provide the data he needs to make that decision.
They will continue to make sure that any clinical mastitis case is cultured, so they identify the pathogen and follow the protocol based on the results of the Check-up test.
"This last year has been a big learning curve but we are much more competent in herd management and udder health" Andrew concludes.
"Being more in control of animal health saves the team at least an hour's work daily, not to mention the stress. It's good to finally be focused on converting pasture into milk instead of blindly fighting fires."
This article is the conclusion of a 3-part series on Andrew Hardie's dairy farm.