Craig & Tracey Fisher - Taranaki
Teamwork makes the dream work for Stratford sharemilkers
Craig and Tracey Fisher are 50/50 sharemilkers, milking 210 cows on 86 hectares at the base of Mount Taranaki. With the combination of FIL teat care products and on-farm support from their local FIL Area Manager, Craig and Tracey are in the right hands when it comes to managing mastitis and putting quality milk in the vat.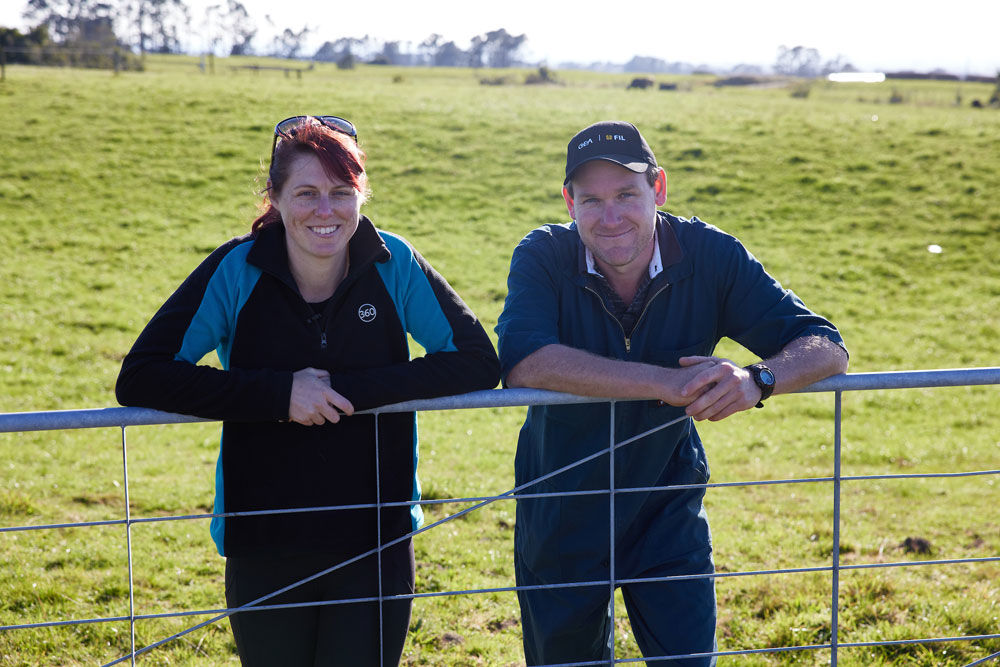 Stratford couple Craig and Tracey Fisher are 50/50 sharemilkers, milking 210 cows on 86 hectares at the base of Mount Taranaki. It's a picturesque spot, even though it gets a bit moist sometimes.
"We're right up on the mountainside, so it does get a bit damp in places," says Craig, who started dairy farming soon after High School.
"I started dairy farming when I was 19. I farmed around coastal Taranaki for four years and then my boss at the time basically offered me 50/50 on his other farm. So, we went in there for three seasons and then we've moved on to this property," says Craig.
Tracey's dairy farming journey started when she met Craig.
"I met Craig, that's how I ended up being a dairy farmer," she jokes.
Craig and Tracy work hard running their operation without any staff. But they credit their local reps from Farm Source and FIL for providing valuable support to their operation and helping them reach their business goals.
"With the FIL rep Craig Allen and the Farm Source rep Chris Lloyd, they're just real great for on-farm discussions and problem solving really. I can't fault them - they're great," says Craig.
A former milk tanker driver, Chris Lloyd has been in the Technical Sales Rep (TSR) role for six months, working from the Farm Source Stratford store. Prior to becoming a TSR Chris was part of the On Farm Assets team, installing and maintaining milk vats.
He describes his relationship with the Fishers as "good and honest."
"Craig's open about what is happening on farm, what the challenges are and his aims for the farm's future," says Chris.
Pasture renewal and management have been the focus lately and the recent regulatory changes in Taranaki have also been top of mind.
"Freshwater regulations have been a big driver of change on farm, so I've been involved in planning next season's feed and cropping requirements," says Chris.
Chris enjoys collaborating with vendor reps like FIL's Craig Allen, visiting farms and following up on enquiries to the store team when a farmer comes in with an issue.
"Craig from FIL has a big presence in the store. He's a big driver in training across the whole store team to ensure we all have a good understanding of dairy shed hygiene and milk quality. Craig and I visit sheds that have milk quality issues, giving me more experience to help our farmers," says Chris.
When it comes to udder health and milk quality, the Fishers are proud of what they've achieved on farm, despite operating from an older style shed which Craig describes as "pretty mish-mash."
"The shed's been extended once, but it doesn't seem to hinder the somatic cell count and the cows seem to flow through it, not too bad.
"Our average [somatic] cell count for the herd is 60,000 and we're treating around 8% [for mastitis] for the season. So, you know, it's outstanding, really," he says.
Craig and Tracy use FIL iodine teat spray in conjunction with the Active Teat Conditioner. It's a great option for a farm that can get a bit damp.
"With the pathogens on the farm that are known and with the muddy paddocks that we've got sometimes when it gets wet, it works really well," says Craig.
An automatic teat spray mixer and dispenser is a big timesaver and Craig from FIL is on hand if the Fisher's need advice.
"It saves me a lot of time, not having to mix up teat spray every couple of days and it's fresh, it's mixed daily. So, it's straight out of the drum, straight onto the cow.
"Craig's come in and put an extensive wash program in for me, and with the teat spray system, he changes the rates through the different seasons has given me good knowledge on what rates to use," says Craig.
Tracey says taking a strategic approach when it comes to farming is part of the couple's ultimate game plan.
"I think as a young farming couple it's really important to future proof, when you're starting out. You want to look more long-term, environmentally and with your business as well. It's very much a long-term game," she says.
The couple's next goal is to own their own farm.
"For us, looking forward is basically farm ownership. That's what sort of drives me a bit, to go as to own the place, to have our name stamp on it and looking forward, that's what we want to do," says Craig.