Turning a grade-free corner on Taranaki organic farm
Embarking on his organic farming journey in Taranaki, contract milker Hayes Garland faced a daunting challenge. He was battling with Coliform and Thermoduric grades, as well as a high somatic cell count (SCC), all of which were affecting his milk quality. Fortunately, Hayes turned to his trusted FIL Area Manager and Farm Medix for expert guidance and assistance, and the results have been nothing short of remarkable.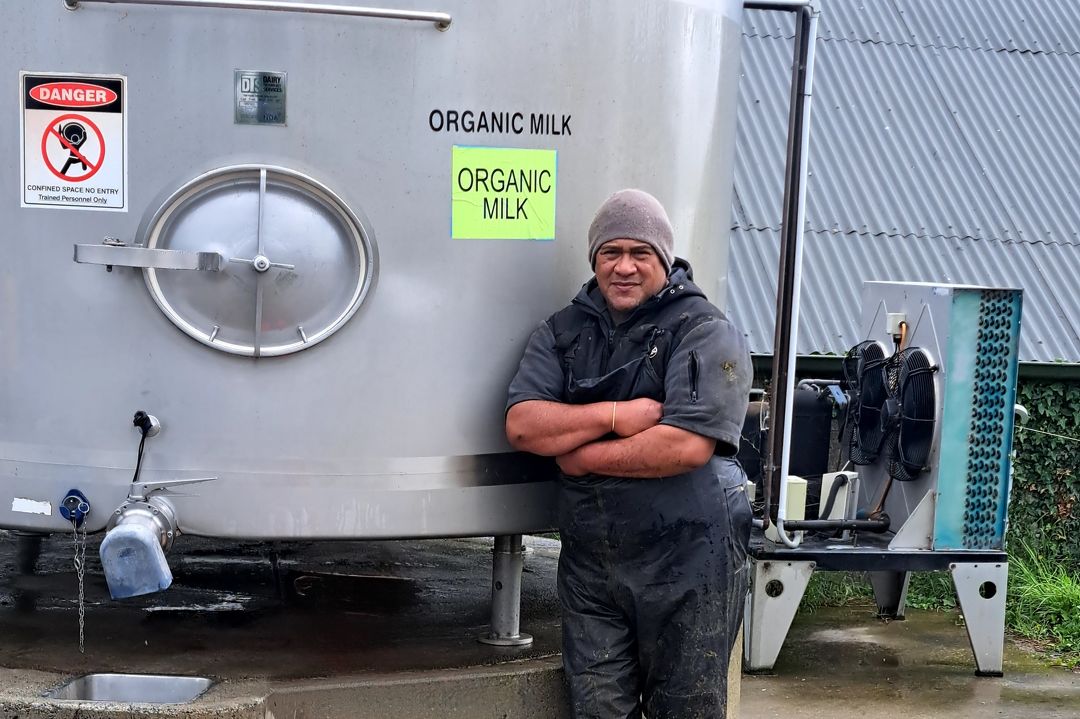 Hayes Garland manages 260 cows on a 105-hectare organic farm in Taranaki. He has spent over a decade contract milking in the region; however, the 2023/2024 season marked his first venture into organic dairy farming and it came with its share of challenges.
Right from the start of the season, Hayes found himself contending with multiple Coliform and Thermoduric grades.
"We were trying to keep on top of it, but it just got too much, and I decided we needed to call in the big guns," says Hayes.
Having been an FIL customer for six years, Hayes knew exactly who to turn to – his local FIL Area Manager, Craig Allen. "I knew Craig would know exactly where to go and what to do, he's a real expert."
The farm had been on nightly pickups and with Craig's intuition, he organised an off schedule pick up to inspect the bulk milk vat.
"He went straight to the vat before he even put on his overalls! He pulled off the inlets and outlets and sure enough, there it was. It was something I overlooked."
Craig found buildup on the vat's inlets and outlets. He also noticed protein buildup on the vat walls, which appears as a bluish rainbow hue. Craig's expert assessment revealed the root causes of the Thermoduric grades.
"There were rainbows galore!" explains Hayes.
Finding the issues responsible was just step one. Craig and Hayes needed to understand the cause of the grading and how to prevent it from recurring. Craig emphasised the importance of four critical elements in cleaning: chemicals, turbulence, temperature, and contact time.
Starting with chemical, Craig offered recommendations to ensure an effective wash. Hayes was already using two of FIL's top-quality products, Quantum Red acid and Quantum Powder powdered alkali. Craig provided a measuring jug for accurate measurements of Quantum Powder and revisited the wash charts to ensure that the doses were suitable for the plant.
Temperature was another crucial aspect of the wash process. Craig noted that the temperature was not reaching the optimal range of 80-85°C, which is essential for killing bacteria and ensuring detergents work effectively. He recommended getting an electrician in to increase the shed's power to achieve the desired temperature range.
Finally, Craig pointed out that the older shed lacked a recirculation pipe, resulting in inadequate contact time on the vat wall during the cleaning process.
Hayes made the necessary changes based on Craig's recommendations, and he's been grade free ever since.
"It made me open my eyes to how much you really know about your shed. Sometimes it just takes that one person to guide you, and for me it was an FIL Area Manager."
Hayes then shifted his focus to improving udder health, as he was experiencing high SCC. Being aware of FIL's partnership with Farm Medix, he got in touch with Natasha Maguire to conduct a Herdscreen, testing every cow in the herd to identify specific mastitis-causing pathogens.
Out of 260 cows, 26 were found to have Staphylococcus aureus and 10 had Streptococcus dysgalactiae. Hayes isolated the affected cows immediately and sought further advice from Craig regarding next steps.
For the Streptococcus dysgalactiae cows, Craig recommended using Teatshield Active, a chlorhexidine-based teat spray, as it is the most effective against this particular pathogen. For the remaining cows, including those with Staphylococcus aureus, Hayes continued to use Iodoshield Active, an iodine-based teat spray.
Craig's keen eye also helped identify that the liners were too small and damaging the teats, contributing to the Streptococcus dysgalactiae issue. Hayes promptly changed the liners and said it has been a game changer.
"I noticed straight away that the cow comfort improved. It's also been a lot more operator easy with cups not falling off using less pressure when removing the cups."
With these changes and the implementation of hygiene practices, such as wearing gloves during milking, Hayes witnessed a significant drop in SCC.
"The cell count came way down! We were barking up in the 300,000s and now we are down to mid-100,000s, so that has been a major. In the farm's history it has never hit that mark around this time of the year."
Hayes also explains how this simple change has had other welcomed benefits.
"Our milk yield has raised by 150-200 litres per day. I put this down to the improved cow comfort."
Hayes attributes much of his success to the recommendations and support from his FIL Area Manager, Craig.
"He is always checking up and letting me know not to hesitate to call him, that alone is worth a million dollars," says Hayes. "It just makes sense because the service is rare. Not many other providers can give us this service that we receive from FIL. If we have had any other problems in the past, FIL have experts who come and diagnose them straight away. So that's why I bought FIL with me here."